Milt and Charlene Robbins made a bold dec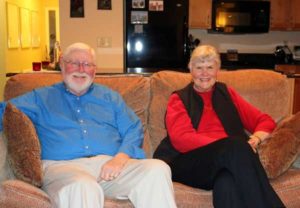 ision. They moved into Capital Manor, A Life Plan Community in Salem, while still in their 60s, full of energy, health, and a sense of adventure.
We spoke to the Robbins' in their villa, which looks out at their oversized deck and the lush trees behind it. Their story carries special meaning now, because the community is kicking off a rare expansion.
They decided to move to Capital Manor after watching their parents choose different paths for their senior years.
Says Charlene, "When my parents got older, they decided to stay in their home. It became such a burden, really, such a burden."
By contrast, Milt's mom moved from her home to Capital Manor. "She came here with a lot of concerns. But after 6 months, she said, 'I am so glad to be here, thank you for encouraging me'," says Milt.
Milt and Charlene now feel the same way; they are glad to be here.
They love the community's rotating art exhibits by residents; special events like last year's eclipse party on the 10th floor lounge overlooking Salem; the fact they no longer have to clean or maintain their home or yard. And they still love to travel.
But most of all, they raved about food and people. "For me, it just absolutely centers around food. I don't have to plan, prepare or shop for dinner. Our dinners in our dining room have wonderful variety, and are very healthy. It is just ideal," says Charlene.
We visited on the night of a special theme dinner and the dessert table alone looked like a cruise ship buffet.
For Milt's part, he says it's the great memories being made. "I found out the population here is more fun to be with than I could have imagined."
Executive Director David Lewis says that's because Capital Manor has a holistic approach so residents live their best.
"Wellness is not just being in shape or eating healthy, although we help with those. It also includes vocations, environment, social, emotional and spiritual wellbeing. [It's about] the whole person completely."
The community has a programs and community life team, wellness instructors, a chaplain and a number of workshops. Residents create hundreds of toy trucks in the on-site woodworking shop, and teddy bears in the fiber arts studio, which become gifts for Head Start children in Polk County.
And for those who enjoy leadership, there are committees that impact operations, food, the community garden and more.
This being a 'Life Plan Community,' (formerly referred to as a Continuing Care Retirement Community), residents receive access to private, discounted residential care and memory care. That means Capital Manor takes care of residents for life, even those who have exhausted all of their resources through no fault of their own, or who have outlived their assets. That's a relief to residents and a gift to their children.
Here are two surprises: First, Capital Manor is not-for-profit. The goal here is simply to serve the community.
Second, the community, with its 10-story tower with 180 new apartments, 13 townhomes, 83 villas, community center, residential care and memory care, is undertaking an exciting expansion. Ground will be broken this year on 34 brand new, single level homes, called the Westside Villas. These villas will be Northwest Craftsman style beauties featuring open floorplans, covered patios, gas fireplaces, garages and plenty of storage. In addition, construction on a state-of-the-art memory care expansion is also about to start.
Demand for accommodations like this is strong, so Capital Manor has created a Priority Club to enable prospective new residents to place a fully refundable deposit.
Priority Club members will receive project updates, reports and invitations to special events. They will also be able to choose the best lots and floorplans available.
Still feeling too young to move into a retirement community?
"You might want to rethink that," says Milt.
Adds Charlene, "We've talked to a number of people who've said, 'I really wish I would have come here sooner.' But we've never talked to anyone who said, 'Gosh, I came here too soon!'"
You can learn more about Capital Manor's expansion by calling 503-339-3272.
Story courtesy of Bruce Sussman – Oregonian Media Group Marketing