Wellness is not one-dimensional. In fact, Capital Manor Retirement Community finds older adults live happier, more fulfilled lives when a holistic approach to wellness is taken.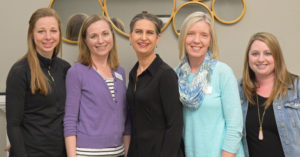 Here's a glimpse at the 8 dimensions of wellness that nurture and promote a fulfilling life.
Physical Wellness
Physical activities at Capital Manor are planned and directed by our Wellness Coordinator. These include exercises planned for the resident's specific needs and abilities, such as improving range of motion, core strength, or balance. Group classes at Capital Manor—which also provide an important social outlet for seniors—include yoga, pickle ball, walking groups, core balance, functional fitness and water aerobics.
Emotional Wellness
Support for the challenges that come with aging can give older adults comfort and strength in difficult times—and learning to cope with and adapt to life's changes builds emotional well-being. This support can take the form of grief and mental health counseling, support and peer groups, informal circles of friends, and interactions with staff members.
Social Wellness
Socialization increases engagement, reduces isolation, and improves seniors' outlooks—and there's no shortage of opportunities in an active senior living community. Residents at Capital Manor enjoy interest-based clubs, game nights, regularly scheduled parties, musical groups and other activities that bring them together with others.
Intellectual Wellness
Intellectual activities boost cognitive function, stimulate the brain, and fuel lifelong learning. At Capital Manor, seniors engage in educational seminars, brain games, book groups, writing your life story or musical performances.
Vocational Wellness
Seniors have valuable work and life skills that can benefit the entire community. Residents share their talents by teaching others, volunteering on a resident committee, building or creating something, or leading discussion groups.  Capital Manor residents are known for volunteering throughout the city of Salem and the wider community.
Environmental Wellness
A warm and comfortable environment in the retirement community enhances seniors' lives. This can encompass gardens and green spaces; walking paths; clean, bright surroundings; a friendly, caring staff; and festive seasonal decorations.
Spiritual Wellness
A strong spiritual sense can offer hope, strength, and peace. In the community, seniors can nurture their spiritual selves through on-site worship services, meditation, religious studies, music performances, and more.
Health Services
Capital Manor offers caring, attentive support especially suited to seniors' health needs—which enhances peace of mind for both residents and their families. Health care support at Capital Manor includes Support Services, Manor Care (a Residential Care Facility) and Memory Care.
This multifaceted approach through the 8 Dimensions of Wellness will impact the lives of older adults, providing enrichment, inclusion, and purpose.
Image left to right: Audrey Kagey: Wellness Coordinator, Shelby Prichard: Community Life and Wellness Director, Denise Mosher: Chaplain and Spiritual Life Coordinator, Linda Burks: Resident Life Coordinator and Samantha Bergman: Resident Recreation Planner